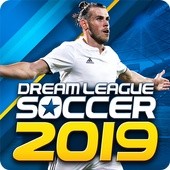 Dream League Soccer 2019
Descripción
Dream League Soccer 2019 Android Game
Build the greatest soccer team, ever
Dream League Soccer is a soccer game where you lead your team to victory, starting from humble beginnings at the bottom of a fictional league in which various teams from all over Europe are competing.
When you start the game, you'll need to choose a team name, design your equipment, and choose a captain. After you're done, you can start playing in a league against various mediocre teams that you'll have to beat to start claiming more and more victories.
During your adventure, you can also manage various aspects of your team: improve the stadium, try new strategies, make signs, and check the stats for your starting lineup. All of this will influence your matches.
But the real fun starts once you enter the game simulator. You'll have only three buttons: pass, shoot, and center, which will be more than enough to enjoy the amazing gameplay. With these options, you can make walls, pass deep, dribble down the field, lob the ball towards the goal, fire the ball across the field, etc. Basically, with these three buttons, you can play soccer.
Dream League Soccer is an amazing soccer game for Android. It has a fun gameplay, good graphics, and a ton of well-known teams and players.
By
How to add official logos and kits to Dream League Soccer
Dream League Soccer is one of the most downloaded games on . The 2019 version and the Classic version  have a combined 40 million downloads. With such a popular title, we'd be remiss not to explain some of the 'unofficial' features like the ability to customize your team with official logos and kits of real teams.
Dream League Soccer 2019 is now available on Android
Not FIFA. Not PES. The most downloaded Android soccer game on is  Dream League Soccer . The title from First Touch Games has earned its popularity fair and square, offering a soccer simulator for Android that's just as good as the two big dogs in the genre. Starting today, the new 2019 update is available which, in addition to updating the teams, includes a new game mode and improved graphics. 
NotesTo download the Dream League Soccer OBB file, you'll need to register the game with your Google Play account.
Info
Info
Calificaciones &

Comentarios

(2)
Resumen de la reseña
100% de los 2 revisores recomendaría este juego.
Enviar su reseña
Registro Registre una cuenta de PHONEKY para publicar reseñas con su nombre, cargue y almacene sus aplicaciones móviles favoritas, juegos, tonos de llamada & fondos de pantalla.
Registrarse o Iniciar sesión en PHONEKY


También podría gustarte:
El servicio de juegos de Android es proporcionado por PHONEKY y ¡es 100% gratis!
Los juegos pueden ser descargados por Samsung, Huawei, Oppo, Vivo, LG, Xiaomi, Lenovo, ZTE y otros teléfonos móviles Android OS.
Información de la página:
Descargar Dream League Soccer 2019 juego para móviles Android - uno de los mejores juegos de Android gratis! En PHONEKY Android Games Market, puedes descargar juegos móviles para cualquier teléfono o tableta de forma totalmente gratuita. Buenos gráficos y un juego adictivo te mantendrán entretenido durante mucho tiempo. En PHONEKY, encontrarás muchos otros juegos y aplicaciones de diferentes géneros, desde la aventura y la acción hasta la lógica y carreras de juegos apk de Android. Descargue juegos y aplicaciones gratuitas de Android a su teléfono móvil, tableta o computadora. Para ver los 10 mejores juegos para Android, simplemente ordena los juegos por popularidad.
Ok.
¡Este juego requiere datos adicionales para ser descargados después de la instalación!
Ok.
¡Este juego es un viejo ROM retro NES, SNES, GBA, N64 o PSX que puedes emular / ejecutar en tu dispositivo Android!
Ok.