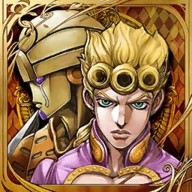 JoJo's Bizarre Adventure Diamond Records Reversal
Descripción
JoJo's Bizarre Adventure Diamond Records Reversal Android Game
Muda muda muda muda muda
JoJo's Bizarre Adventure Diamond Records Reversal is a fighting game with a tactical combat system. Here, you'll have to control some of the most popular characters from the manganime JoJo's Bizarre Adventure. Giorno, Jonathan, Joseph, Zeppeli, Speedwagon, Josuke, and more.
The combat system in JoJo's Bizarre Adventure Diamond Records Reversal is turn-based. First, you can choose one of the available skills for your character and then turn it loose on your rival. Each character has its own unique skills. You'll have to learn how to use the best skills at the right times in order to win even the most difficult battles.
When you start playing JoJo's Bizarre Adventure Diamond Records Reversal, you'll only have a handful of characters available. However, as you complete missions in story mode, you can add tons of other characters to your collection, which you can use during any battle. Between battles in the story mode, you'll also be able to watch anime scenes that'll tell you part of the saga's official story.
JoJo's Bizarre Adventure Diamond Records Reversal is a tactical action game with a simple gameplay. Plus, it has spectacular graphics and lets you control some of the most charismatic characters in the history of anime.
Info
Info
Calificaciones &

Comentarios

(1)
Resumen de la reseña
100%*
Enviar su reseña
Registro Registre una cuenta de PHONEKY para publicar reseñas con su nombre, cargue y almacene sus aplicaciones móviles favoritas, juegos, tonos de llamada & fondos de pantalla.
Registrarse o Iniciar sesión en PHONEKY


Visitante
De: India
Teléfono / Navegador: Android
También podría gustarte:
El servicio de juegos de Android es proporcionado por PHONEKY y ¡es 100% gratis!
Los juegos pueden ser descargados por Samsung, Huawei, Oppo, Vivo, LG, Xiaomi, Lenovo, ZTE y otros teléfonos móviles Android OS.